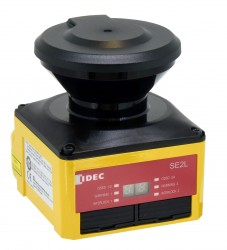 The new Laser Scanner from IDEC (SE2L-H05LP) provides area protection ensuring the safety of operators within the hazardous areas of a machine.
Area protection ensures the safety of the machine operators in a hazardous area, or those approaching the machine. This protection can be provided by safety mats, perimeter guarding, light curtains or by implementing a laser scanner.
Sys-Tek, the UK agency for IDEC, are pleased to be introducing the new SE2L laser scanner with feature such as 270deg protection, 5 meter sensing range and "master/slave" function (a maximum of 4 SE2Ls can be inter-connected using RS485).
With applications such as access protection, the SE2L provides other features including Dual Area Protection – where 1 scanner can monitor two separate hazardous areas to stop the related without the need for a reflective sensor, thus eliminating optical alignment issues and could replace 2 light curtains.
As for AGV applications – this is where the IDEC Laser Scanner comes in to its own. The SE2L has built in encoder input, which allows the scanner to switch between sensing patterns (32 area patterns can be configured), allowing it to adjust speed when its "sees" an obstacle.
The device is configured with easy-to-use software allowing area configuration of up to 32 area patterns, detection of positional change, teach function and check detection status (area data & distance measurement data can be recorded while monitoring on a PC).
Sensing distance of 5 meters with a scanning angle of 270 degrees
Accepts encoder input for speed data and can be used to alter the scanning pattern
Up to 32 scanning patterns can be configured
Dual area protection
Need more information, get in touch (call 0330 1200 246 now) or download the brochure…
Brochure download: IDEC_SE2L_Safety_Laser_Scanner (PDF)